Top Rated Audi Service in Dallas
AUTO

SCOPE
is a Family owned European automotive repair company. Our goal is to provide the highest level of service, the highest quality of repair, and strive to build long-lasting relationships with our customers and their vehicles. We are a value-driven company, and our team of dedicated specialists strives to the complete satisfaction of every client that brings their car to our facility for repair or pampering.
Nerces Mavelian
President
Full-Service European Auto Service / Repair Shops in Dallas and Plano
Well, look no further. AUTOSCOPE is here for you.
When it comes to Audi maintenance or repair, Dallas and Plano have a few places to choose from…but why not choose the best? Audi customers have been trusting their vehicle's with
AUTO

SCOPE
and our passionate, experienced and professional team of mechanics.
We provide you with excellent quality service from factory-trained technicians at reasonable prices.
We don't see just a Audi when you walk in our door. We recognize you as someone who relies on your Audi for shuttling kids, safe transportation, and enjoyable road trips.
We have all the same capabilities as the dealer at a significantly lower cost to save you money.
Servicing Audi Owners for over 40 years!
There's more to servicing your Audi than just changing your oil. Nobody works with you more than
AUTO

SCOPE
to help keep your Audi in top shape on the road and manage your expense.
AUTOSCOPE's factory-trained technicians employ the latest diagnostic equipment, including custom-fabricated lifts designed to completely mitigate any impact on your vehicle, to the latest diagnostic tools; AUTOSCOPE has everything needed to turn your Audi repair around promptly, professionally, and impeccably.
What Sets AUTOSCOPE Apart
Highest quality materials & workmanship with prompt & courteous customer service
We know you rely on your Audi for shuttling kids, safe transportation, and enjoyable road trips. We realize you're also an enthusiast, with a passion for fellow enthusiasts to discuss their project with. We see a busy professional who doesn't have time for the Audi dealer's antics and waiting games, nor gets fooled by cheap coupons enticing you with unrealistic, too-good-to-be-true prices.
3 Year Warranty
We back our work by providing a 3-year 36,000-mile warranty on all of our labor.
Save Time & Money
We use our extensive knowledge of your car and previous repairs to work efficiently and effectively, saving you time and money.
Dealer Capabilities, Independent Service
We have the same European car factory diagnostic tools and equipment as the dealer.
Experience & Expertise
Over 40 years of experience working on all European car models with the most qualified certified European car repair technicians.
Free Shuttle Service
Need a ride? Take advantage of our free shuttle service from your home or office Monday-Friday during regular business hours.
Courtesy Car Wash
Need your car cleaned? No problem! Each service includes a courtesy hand wash and vacuum.
We Will Service Your Audi At Any Location
AUTO

SCOPE
 works with you to help keep your Audi in top shape. From the latest precision equipment, including custom-fabricated lifts designed to completely mitigate any impact on your vehicle, to the latest factory-diagnostic tools,
AUTO

SCOPE
has everything needed to turn your Audi repair around promptly, professionally, and perfectly.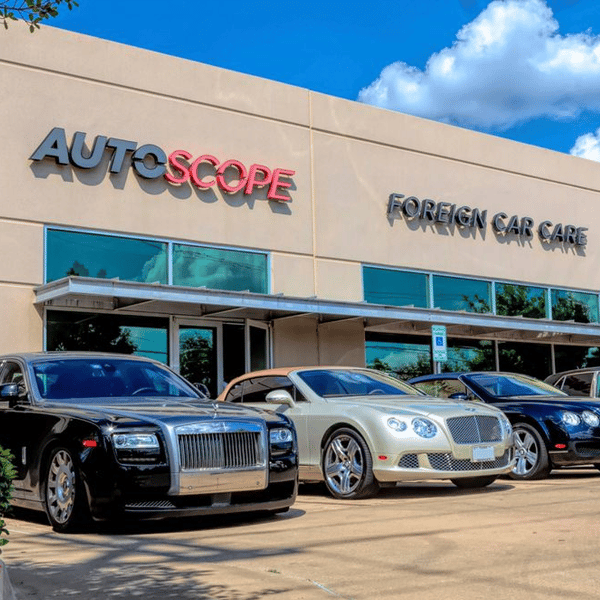 Park Cities
6134 Denton Dr
Dallas, TX 75235
(214) 350-3050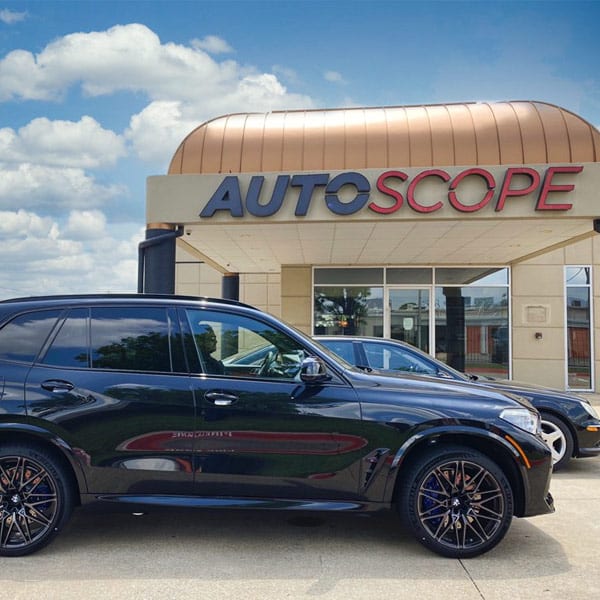 Plano
601 Coit Rd
Plano, TX 75075
(972) 867-7467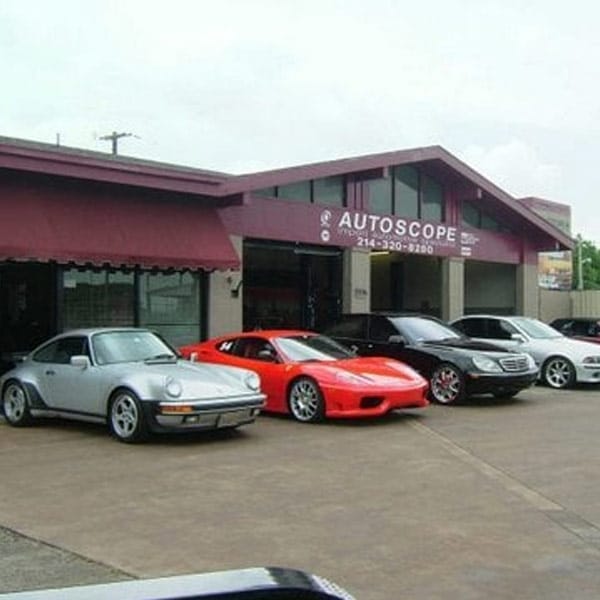 White Rock
9796 Ferguson Rd
Dallas, TX 75228
(214) 320-8280
You'll find our Audi technicians working in a state-of-the-art facility designed to meet our customers' needs. Audi customers have trusted their vehicles with
AUTO

SCOPE
and our passionate, experienced, and professional team of mechanics for over 40 years; come and see how we can win you over from your present Audi service center, and you'll be glad you did.
Full List of Services Performed
AUTO

SCOPE
offers everything your Audi needs to stay in top shape, whether it's repair, maintenance, or even high-performance or track-oriented upgrades.
Audi Car Service by Autoscope – Dallas TX.
When it comes to performance, luxury, and unparalleled driving experience, Audi is a name that stands tall in the automotive world. An embodiment of German precision and reliability, every Audi vehicle is a testament to impeccable engineering and design. But to maintain this level of performance, and to ensure the harmonious symphony of an Audi continues to play the right tunes, regular and professional servicing is key. Enter the world of Audi Dallas Service, a realm where your Audi receives the royal treatment it truly deserves.
Understanding Audi Dallas Service
In Dallas, the hot summers, sporadic rainfall, and bustling city traffic all contribute to your Audi's service needs. Each twist, turn, and straightaway impacts your vehicle's performance and health. Consequently, it's crucial to partner with an Audi service provider that not only understands the intricacies of this luxury brand but also appreciates the unique driving conditions of Dallas. This is where Autoscope comes into the picture.
At Autoscope, we go beyond standard check-ups and delve into detailed maintenance that encapsulates the essence of Audi Dallas Service. With our state-of-the-art equipment and factory-trained technicians who understand every nuance of Audi vehicles, we ensure your car performs optimally in the heart of Texas. Whether you're driving an Audi A3 or a sleek Audi R8, Autoscope Dallas is your trusted partner for all Audi service needs.
Services Offered by Autoscope for Audi Dallas Service
Every visit to Autoscope for your Audi service initiates with a thorough inspection of your vehicle. Our experts look beyond the obvious and aim to catch potential issues before they can turn into significant problems. Our comprehensive service includes:
Oil and filter changes: Vital for engine health, regular oil changes ensure your Audi runs smoothly and efficiently.
Brake inspections: We check your brake pads, rotors, and fluid to ensure your Audi stops as well as it goes.
Tire balancing and rotation: Regular tire maintenance can extend the life of your tires and improve overall vehicle safety and performance.
Fluid level checks: We examine all essential fluids, including transmission fluid, coolant, and brake fluid, topping them up as needed.
Engine diagnostics: Using advanced diagnostic tools, we can spot potential issues and fix them before they lead to costly repairs.
Why Choose Autoscope for Audi Dallas Service?
At Autoscope, we combine our passion for Audis with our technical expertise to provide a service that is unmatched in the Dallas area. Our factory-trained technicians are well-versed in the latest Audi technologies and guidelines, ensuring your vehicle receives the care and attention it requires.
Moreover, our commitment to using genuine Audi parts guarantees your Audi continues to perform as it was designed to. These parts are crafted specifically for your model, offering superior quality, fit, and longevity compared to aftermarket alternatives.
Finally, we value your time. At Autoscope, we work diligently to ensure your vehicle gets back on the road as soon as possible, without compromising on service quality. Our transparent approach means you are always kept in the loop about what your Audi needs and why.
Autoscope: Your Partner in Maintaining Audi Excellence
Autoscope is not just a service center; we're a family of Audi enthusiasts who understand the value of your vehicle and the trust you put in us. We don't just service your Audi—we care for it as if it were our own, ensuring it continues to deliver the exceptional driving experience you've come to expect.
Whether you're cruising down the Dallas North Tollway or navigating the city's vibrant downtown, with Autoscope, you can drive with the confidence that your Audi is performing at its best.